Exchange Rate Table
With this WordPress extension you can check updated exchange rate of over 200-world currencies every day. The plugin can be customized for any website design – it has functional that allows to adjust the display of the informer, both in color and overall dimensions.
Exchange Rates Today
«Exchange Rates Today» is another plugin, focused mainly in the online stores. Its main feature is displaying goods prices in a particular currency in accordance with its exchange rate. For example, the online-store's goods are purchasing in dollars, but the site should display price in rubles and at the current exchange rate. This plugin can do this task for webmaster.
Currency exchange rates table
«Currency exchange rates table» is the next plugin that can display a table with current exchange rates. The table can be displayed as a widget or shortcode. Courses updating proceed automatically by Tjenestetorget service. As the previous plugins, «Currency exchange rates table» has enough settings to adapt the displayed information to any site and any design.
CurrencyConverter
«CurrencyConverter» plugin has fewer capabilities than the first plugin from the list. It is capable to display rates of more than 170 world currencies. Information can be displayed as a widget, exchange rates updates every hour automatically. Webmaster can set server for data retrieval himself. Moreover, developers provide an ability to supplement the plugin functional at the request of webmaster, but for a separate price.
Forex Table Google Based (Live)
«Forex Table Google Based» plugin is suitable for fans of minimalism. Information about exchange rates builds based on Google Finance and displays in simple two columns form. You can set the basis currency of which the prices of other currencies will be displayed.
WP Universal Exchange Informer
With «WP Universal Exchange Informer» you can receive exchange rates from the Central Bank of Russia, the National bank of Moldova and the National Bank of Ukraine. The plugin installs and uses simply, and the abundance of settings allows you to integrate currency rates information into any site.
Plugins for currency conversion
This kind of extensions for CMS WordPress is designed for converting (comparing prices of different currencies). Usually, they are made in the widget's format and are best suited for displaying in the sidebars of the site.
Currency Converter
«Currency Converter» is a currency calculator, full-fledged and fully customizable for any site. It has over 200 currencies. Settings allow you to set display format, adjust the width and color of fonts and more. Currency data updates every day.
WooCommerce Multi Currency
«WooCommerce Multi Currency» is a plugin with free version that targeted at commercial platforms of the «WooCommerce» format. The plugin supports multicurrency payment, so you can switch to different currencies during payment process. Minus of the free version is a limited set of display settings and the lack of additional functions available in the paid version.
Woo Exchange Rate
The «Woo Exchange Rate» plugin allows you to manage the price of the good in accordance with the exchange rate of the base currency. The multi-currency payment is also supported. The interface is intuitive and easy to learn. Russian language is also supports.
CBX Currency Converter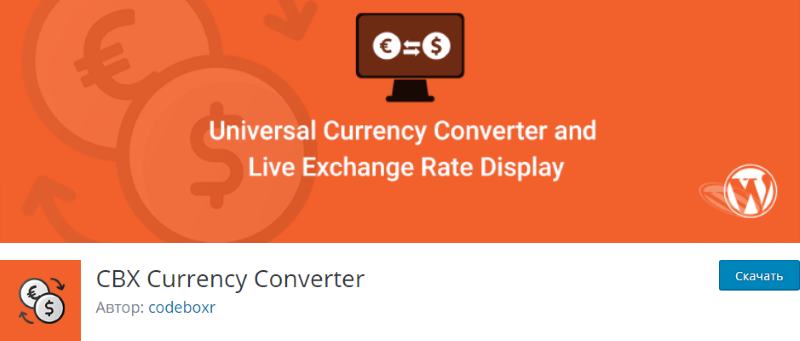 «CBX Currency Converter» plugin, like the other in the list, is also a currency converter. It has 4 preset widget templates, that output with shorcode. The setting is simple to learn and intuitive. Plugin is able to fit into design of any site.